Inflation is soaring, with no end in sight. And
things are about to go from bad… to much worse.
Dear Reader,
Since getting into office, Biden has screwed up nearly everything.
From the Afghanistan withdrawal…
To the situation in Ukraine…
To the complete breakdown of the supply chain, the stock market crash and more.
Now, as someone who's proud to be an American, I hold a deep respect for the office of the President…
But this political path that our elected officials are on is completely unacceptable…
And it's dangerous to the American people.
And the stats reflect that…
By the day, a growing number of Americans are starting to believe that Biden shouldn't be president at all.
In fact, a full 54% of voters say he'll be rated among the worst presidents in history.
But by far, what Biden will be remembered for the most is the current inflation crisis… what I call "Bidenflation."
According to the NY Post, "Biden's given America the worst inflation in 40 years."
ABC News reports "sky-high inflation is evaporating Americans' savings."
And Politico says that "inflation keeps getting worse" and warns it's a "mounting trouble."
Many predict that what's coming will be worse than the inflation of the 1970s…
Perhaps you may remember just how bad things got back then.
And unfortunately, at the time people at or near retirement age were hit the hardest…
Everything was suddenly much more expensive and what they had set aside was no longer enough.
Well today, the exact same situation is playing out…
In fact, a new report based on U.S. Bureau of Labor Statistics data shows that inflation is costing the average American an extra $11,500 every year…
And for most people, that's $11,500 that they just don't have to spare…
Which is why 7 in 10 Americans say this is the biggest problem in the country right now.
Chances are you may agree.
And as you're about to see, things are set to go from bad… to much worse.
In the coming months, you could be paying $10 or more for a gallon of gas… or $7 for a gallon of milk.
A carton of eggs could run you $8 or more.
Your monthly internet, TV, and phone bills could go up by 50%, 100%, or even much more.
I can go on and on…
Healthcare, medicine, the cost to heat or cool your home…
Prices for nearly everything you need to live are about to go much higher than they are now.
Worse yet, the Biden administration seems completely unprepared to deal with it…
Their solution to all of this is to print and spend even more money… which is exactly what got us into this mess in the first place.
They just signed a massive new $740 billion bill into law, which they claim will somehow reduce inflation and bring prices down.
One thing's clear in all of this: you can no longer rely on the government to help you…
If you want to ensure that you and your family survive what comes next, you need to take matters into your own hands.
And that's why I'm sending you this message today…
Hi, my name is Zach Scheidt.
I'm a former hedge fund insider who spent years managing money for some of America's wealthiest elites…
I worked with a famous oil tycoon, an heiress to the Coca-Cola fortune, and more.
Today, I use those same insights and strategies I learned from my hedge fund days to help show everyday Americans like you how to make a fortune.
I do this through my role as the Chief Investment Officer at one of the world's largest independent financial research organizations… with hundreds of thousands of readers across the country.
Our work has been featured in Fox Business, CNBC, Financial Times, The Wall Street Journal, The Economist, Reuters and more.
And for good reason, too…
Over the years, we've helped our readers to get ahead of almost every major political and economic event…
Such as the time we predicted the 2008 crash years before it took place…
Or when we predicted Brexit and Trump's 2016 victory in advance (both of which shocked nearly everyone but us)…
And even when we predicted the Covid-19 pandemic months before the first case broke out in China (we warned readers in August 2019 there was a "100% chance of a pandemic in the next few years.")
But today, I'm issuing what might be one of our most urgent and important predictions yet…
Because if I'm right, America is facing an inflation disaster unlike anything we've ever seen before…
And millions of families could be devastated because of it.
Trust me, I'm not saying that to scare you… that's the last thing I want to do.
And I hope and pray that everything I say here never comes to pass…
But if my research is correct, then almost nobody is prepared for what's coming, or just how bad things will get.
Because if you think inflation is bad now, you're right…
It absolutely is.
And we're all feeling the effects in a major way.
One poll, for example, shows that 70% of Americans have had to dip into their savings in recent months just to make ends meet.
But as you'll see, it's going to get worse from here, and the high prices you already pay for essential goods and services now are headed much higher.
And that's why I've spent so much time and money to get this short message in front of you today…
Because I'm on a mission to help show as many people as I can how to prepare for what's coming.
I'm doing this because almost nobody is giving you the truth about what to do…
Look, if you found yourself caught off guard by just how bad inflation has become, I can't blame you.
And you're certainly not alone…
Think about it…
This time last year, the message from the mainstream media was that inflation was nothing to worry about and would only be transitory.
In other words, they've completely lied to you…
And they're only just now coming around to admitting how big of a threat inflation will be.
But I fear they're still not telling anyone the truth about how bad things will get…
And they're certainly not telling you how to prepare for the worst, or where to invest your money to beat inflation.
Which is why I'm sending you this message today.
Over the next few minutes, I'm going to walk you through everything you need to know, including…
What's causing this inflation, why the situation is going to get so much worse, and why there's nothing that can be done to fix it…
Why we could be just days away from the worst inflation shock in over 50 years…
And the simple steps that you can take today to protect yourself and your savings from this skyrocketing inflation.
These steps you'll see are the exact same steps I've taken with my own money to ensure that my family and I are ready for whatever happens next.
Sound good?
Then let's get right into it…
The End of America As We Know It?
To understand just how grave this situation is (and why I'm so worried), take a look at this chart: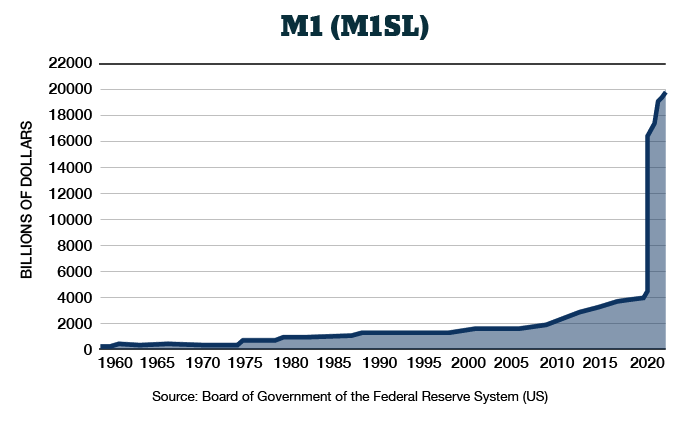 What you see here is the money supply in America…
And as you can see, the number of dollars in circulation has exploded in the last few years.
In fact, more than 80% of all dollars to ever exist have been printed since just 2020 alone.
To put that into perspective for you, at the beginning of 2020, the money supply stood at about $4 trillion.
By January 2021, it climbed to nearly $7 trillion.
Then Biden took office… and the money printers went into overdrive.
By October 2021, just a few months later, the number of dollars in circulation soared to over $20 trillion.
You don't need a degree in economics to know that this is bad news…
In all of history, not a single country has ever inflated their currency by over 80% in 2 years without experiencing epic price rises afterward…
Which is exactly what's happening as we speak.



And Jeremy Siegel, Professor of Finance at the Wharton School of Business (the same prestigious Ivy League university that Trump went to) warns it's going to get a whole lot worse…
He says inflation could more than double from where it is today to over 20%… at a bare minimum.
And he's not the only one…
The mainstream media like The Washington Post have also started to sound the alarm on just how bad things could get…
They recently admitted that inflation is the single biggest threat America faces today… and could ruin our country if it gets out of hand.
Heck, even the Democrats themselves are starting to turn their backs on Biden due to this out-of-control inflation…
According to one poll, 3 out of 4 Democrats say they don't want him to run again in 2024.
Look, I know that like most Americans, you're probably hoping that inflation dies down soon… so we can all get back to normal.
I'm here to tell you that it won't happen.
Fortunately, as I mentioned, there are a number of simple moves you can make right now to protect yourself from whatever comes next… regardless of how bad things may get.
And that's what I'm going to show you today.
But I'm getting ahead of myself here…
Before I get to that, let me back up and explain why higher inflation is inevitable…
America's Worst Inflation Nightmare Is Coming True
Many of the so-called "experts" in the mainstream have been predicting that inflation has peaked and would come back down…
But they were wrong (just as they were all wrong when they said inflation would be transitory)…
And sadly, I know that it's only going to continue to climb from here.
That's because, for reasons you're about to see, the time for Biden to act and bring down inflation was months ago, when the problem was just starting to surface.
And now, with inflation already at its highest level in more than 46 years, I'm afraid that it's too late for them to do anything…
The problem is out of control and will only spiral and get worse.
In Fact, The Government Is 100% Powerless to Stop This Growing Threat
It goes without saying that the only way to bring prices down is to reduce the money supply back to normal levels…
And as you may know, the primary way for the government to do that is through interest rates.
When rates go up, it costs more to borrow money…
As a result, less people are taking loans out… and due to that, there's much less money going around in the system.
That makes sense, right?
And when less money is chasing the same amount of goods and services as before, that means prices will inevitably go down.
Which is why interest rates are the key for the government to control and tighten the money supply and bring down prices…
That's exactly how they ended inflation back in the 1970s.
And so far, rates have been raised from around 1% last year to above 5%... which many expected would be enough to start bringing prices down.
But that simply hasn't happened…
Instead, it appears as if these rate hikes have been virtually useless.
And that doesn't surprise me at all.
That's because, according to the official numbers, inflation has hit 8.3%... and by some estimates, it's gone as high as 16.5%.
And if the government wanted to bring prices down, they'd have to raise rates to match the level of inflation… at least 8.3%.
Why?
Well, just take a look at this chart going back to the 1940s: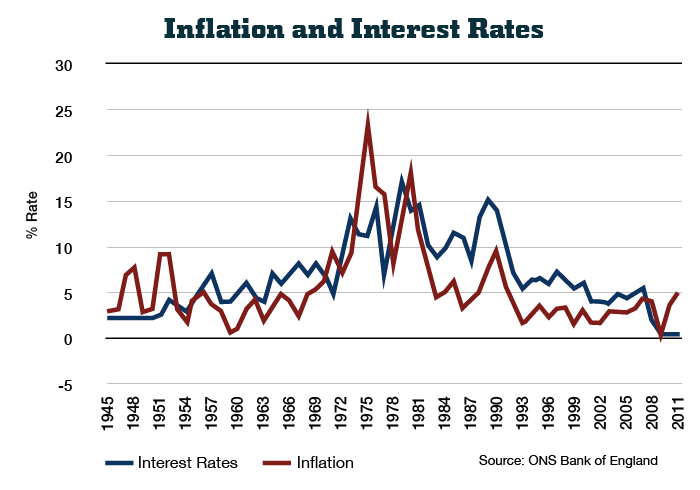 What you can see is that every time inflation picks up (which is shown on the red line)… interest rates (or the blue line) must go even higher to stop it.
If they don't, inflation will never slow down… it'll just go higher and higher.
In 1980, for example, when inflation hit as high as 13.5%, rates had to go even higher than that to 20% before things got any better.
Can you imagine if rates went to 20% now?
For reasons you're about to see, that'd trigger the complete collapse of our government, our way of life and our entire country.
Don't Believe Me? Just Consider This…
Back in 1980, the ratio between government debt and GDP (or the size of the economy) was around 30% or so…
In other words, the total size of Washington's debt was about a third of our annual productive output as a nation.
That was high but still a manageable number.
But the days of our politicians showing any signs of fiscal responsibility are long gone…
And today, the situation is much different.
The U.S. governments debt stands at a massive $30.9 trillion, or 105% of GDP, and is projected to hit 277% of GDP by 2029…
The government takes in about $4 trillion per year in taxes…
And because so much of our debt is due to be refinanced in the coming years, if interest rates were to hit 10%… they'd soon have to pay over $3 trillion in interest every year.
In other words, if they were to raise rates to where they need to be to fight off inflation — 8.3% (or higher) — they'd destroy the entire country in the process.
Virtually all of the tax revenue the government takes in would have to be directed simply towards paying the interest on our national debt.
That would mean they'd have to divert nearly every single dollar of spending away from the police and the military… away from Social Security and Medicare… and away from schools and infrastructure, for example.
Can you imagine if that happened?
I can't either…
It'd bring our entire country to its knees overnight.
My point is, there's absolutely nothing the government can do at this point to fight inflation…
There's no way they can take rates as high as they need to even come close to bringing inflation down.
It's clear to anyone paying attention that we have a major problem on our hands…
In other words, the government has two choices right now…
They can pick inflation…
Or they can pick the total destruction of the stock market, the economy, and the entire government.
Which do you think they'll choose?
For me, the answer is obvious…
Inflation is the lesser of the two evils here.
I'm sure you can agree with that.
Voters may dislike inflation, but they hate losing their job and seeing all of their savings wiped out even more.
And that brings me to what I believe comes next…
Are We Just Days Away from the Worst Inflation Shock in Over 50 Years?
Many experts believe that what comes next will be a historic event that will define America's monetary future for decades…
This event will be called the "Fed Pivot."
And once it occurs, it could trigger the worst inflation shock in over 50 years… sending prices soaring practically overnight.
And that will only be the beginning.
In short, I predict that the government is about to completely reverse the course it's on…
They're going to go from increasing rates and attempting to end inflation… to cutting rates, in a desperate attempt to save the crashing economy.
And as a result, inflation will skyrocket… as it becomes obvious to the entire world that the situation is out of control and can't be stopped.
And make no mistake, this will all kick off much sooner than you expect.
Because I expect this pivot could take place at one of the upcoming Fed meetings…
And the next meeting is scheduled for November 1.
Could this be the meeting where they'll announce their pivot?
And once that happens, it's all over…
Inflation will accelerate and get out of hand faster than you can even imagine.
This is exactly what happened in Weimar Germany in the 1920s, for example… or Zimbabwe in 2007.
Again, I'm not saying any of this to scare you… I'm simply following my research to its logical conclusion.
And if you've made it this far, chances are that you agree with my findings.
So what can you do to prepare?
Well, the good news is that taking action couldn't be any easier…
Because I've spent hundreds of hours creating a comprehensive plan for my own family to survive what comes next.
And today, I want to share my plan with you too… so you can take action.
When you implement this simple, step-by-step plan (which I'm about to show you), you'll be able to both protect your savings from inflation… and potentially even have the chance to make a fortune as this crisis unfolds.
As you know, in every crisis there's also an opportunity…
Plenty of in-the-know people had the chance to get rich in Weimar Germany, for example.
And I expect the same thing will happen this time around.
Sound fair enough?
Then let me walk you through what I recommend…
Act On These Simple Steps Today
In order to take action and keep yourself safe from this inflation crisis, there's a number of easy moves I recommend you take right away.
And keep in mind that right now, most people are still ignoring how bad inflation will get… they're hoping that it dies down so life will get back to normal.
Because of that, these moves I'll show you are still simple and very cheap to take advantage of.
But if you put this off any longer, and wait around for everyone else to panic about inflation, they might all become difficult (if not impossible) to implement… as well as much more expensive.
In other words, it pays to act fast.
Once again, what you're about to see are the exact same moves I've made with my own money to make sure my family and I are ready.
And my hope is that by sharing my strategy with you today, you'll be able to take action to protect yourself and your loved ones as well.
With that said let's get right into it, starting with the first action to take…
Step #1:
Collect Passive Income Every Quarter from This #1 Inflation-Proof Asset
From technology to consumer goods to industrials and nearly everything in between… almost every sector is in the red.
Every sector except for one, that is…
Because just about every oil company in the world is quietly banking record profits.
Let's not forget that just a few short years ago under Trump, America had full energy independence for the first time in many decades.
But disastrous energy policies have completely destroyed that…
And as a result, we're looking at severe shortages, plus a perfect storm for much higher prices.
In fact, some predict that oil could go as high as $400 a barrel, or even higher.



Needless to say, I expect oil stocks could be some of the biggest winners of these next few years…
In fact, many oil stocks have already doubled, tripled, quadrupled… or gone even higher than that.
Which is why, according to a survey from Bank of America, two-thirds of investors think oil stocks will be the biggest winner of the year.
But if you've missed the boat so far, don't worry…
Because I believe these stocks have room to run another 10X (or more) from here if oil goes to $400.
And that's on top of the income you'll collect every quarter for holding these companies.
Better yet, as oil goes higher so does the profits of these stocks… and with it, the amount you get paid out every quarter.
To help you get started, I've analyzed dozens of different oil companies… and narrowed them down to the best three.
I've put all of the details on these companies, including the name and ticker symbol, how you can buy shares, my own analysis and more into a special report.
I'm calling this report The Coming Oil Boom: The Three Top Oil Stocks To Buy Now… and I want to send it to you right away today, so you can take action fast.
I'm prepared to send it directly to your email, ready for immediate download.
More on how to claim your report in just a moment.
First, before we get into that, let me show you the next action I recommend you take…
Step #2:
Tap Into the Real Estate Market With As Little As $50!
As you may know, one of the best ways to hedge against inflation is with real estate…
History shows that most people who survived hyperinflation in countries like the Weimar Republic or Zimbabwe did it by holding real estate.
Which is why America's billionaires and elites are all racing to grab as much real estate as they can, before this inflation disaster strikes.
They're trying to get out of increasingly worthless dollars… and into real, tangible assets like real estate.
Take BlackRock, the largest asset management firm in the world, who's buying up real estate all over the country.
But you don't need hundreds of thousands of dollars to go buy real estate…
Because I just found a small real estate company that could explode in the coming years…
One that you can buy for less than $50 a share today.
They've purchased thousands of single-family homes in the hottest markets all across the country…
From Florida to Texas to California and everything in between.
And when you buy this stock, you become a part owner in all of these properties…
Making you entitled to collect a share of the rental income they bring in every month.
In other words, it's a win-win…
You get a stake in real estate across the country and make money when it goes up…
And you also get paid rental income just for holding this stock.
Best of all, you'll never have to worry about all of the stresses that come from owning a rental property… like fixing a broken sink at 2 AM.
It's completely hands-off, passive income for you.
All you have to do is buy this stock in your account and sit back as the gains roll in.
Which is why I believe this could be the perfect stock to help you fight inflation in the coming years…
I've put all of my analysis on this company into a second special report that I'm calling The #1 Real Estate Stock To Buy Today.
And just like the first special report, I want to send this to your email right away… so you can act on it immediately.
More on how to claim these reports in a moment.
But first, let me show you the third action you must take now…
Step #3:
Whatever You Do… Don't Buy Gold Bullion Until You Read This!
Everyone knows that one of the best ways to protect yourself from inflation is gold…
But did you know there's a secret gold investment that could go up significantly higher than the price of gold?
For every 10% that gold goes up, you could make 100% or more with this secret investment.
I'm talking about a gold royalty company…
These are companies that help provide money for a new mine to get up and running…
And in exchange, they get a royalty on that mine.
Whenever an ounce of gold gets pulled out of the ground, they get paid a percentage of the proceeds.
And if gold goes up just a small amount, those royalties become significantly more valuable.
In other words, gold royalty stocks give you leverage to the price of gold… meaning you can make bigger gains, with less risk.
And I've found several of the best gold royalty companies that I recommend you buy now.
You'll get all of the details inside this next report I want to send you called The Explosive Gold Investment Secret Revealed… where I'll cover everything you need to know and give you the exact steps to invest.
But that's not all…
There's still one final move I recommend you make immediately, in addition to what we've covered so far.
Step #4:
Make Sure That You and Your Family Are Ready for Shortages and Black Markets
If this inflation crisis plays out as I expect, all hell could break loose in the coming months…
And when things get bad enough, Biden is likely to respond using one of the only tools he'll have left: price controls.
But history shows that never works…
Every time it's been tried before, it leads to huge shortages in everything and even causes a black market to develop.
By the time this happens, it will be too late…
Inflation will be above 20%…
Tens of millions of families will be struggling to afford the most basic essentials…
And fuel, food, medicine and more could become nearly impossible to find due to shortages caused by price controls.
That's why I'm encouraging you to stock up on the key items now, before all of this happens… while they're both cheap and in stock.
I recommend you purchase some foods with a long shelf life, water, basic toiletries (like shampoo or toilet paper), batteries, and more.
To make it as easy as possible for you, I've gone ahead and compiled the complete list of items you must stuck up on now… and I've put it all into one final report called Out Of Stock! How To Prepare For Biden's Shortages.
And just like all of the other reports I've mentioned to you today, I want to rush this to you right away so you're ready to act.
Claim This Complete Set of Inflation Survival Reports Today!
As I mentioned, I've spent hundreds of hours working on this comprehensive plan to help you sidestep the coming inflation crisis…
And I've already made my research available to thousands of folks just like you who follow my work.
In just a few minutes, I want to give you FREE access to all of this too…
All I ask in return is that you agree to take a deeper look at my research.
Simply agree to a risk-free trial to my monthly research advisory that I call Lifetime Income Report and you'll get instant access to all of the reports I mentioned.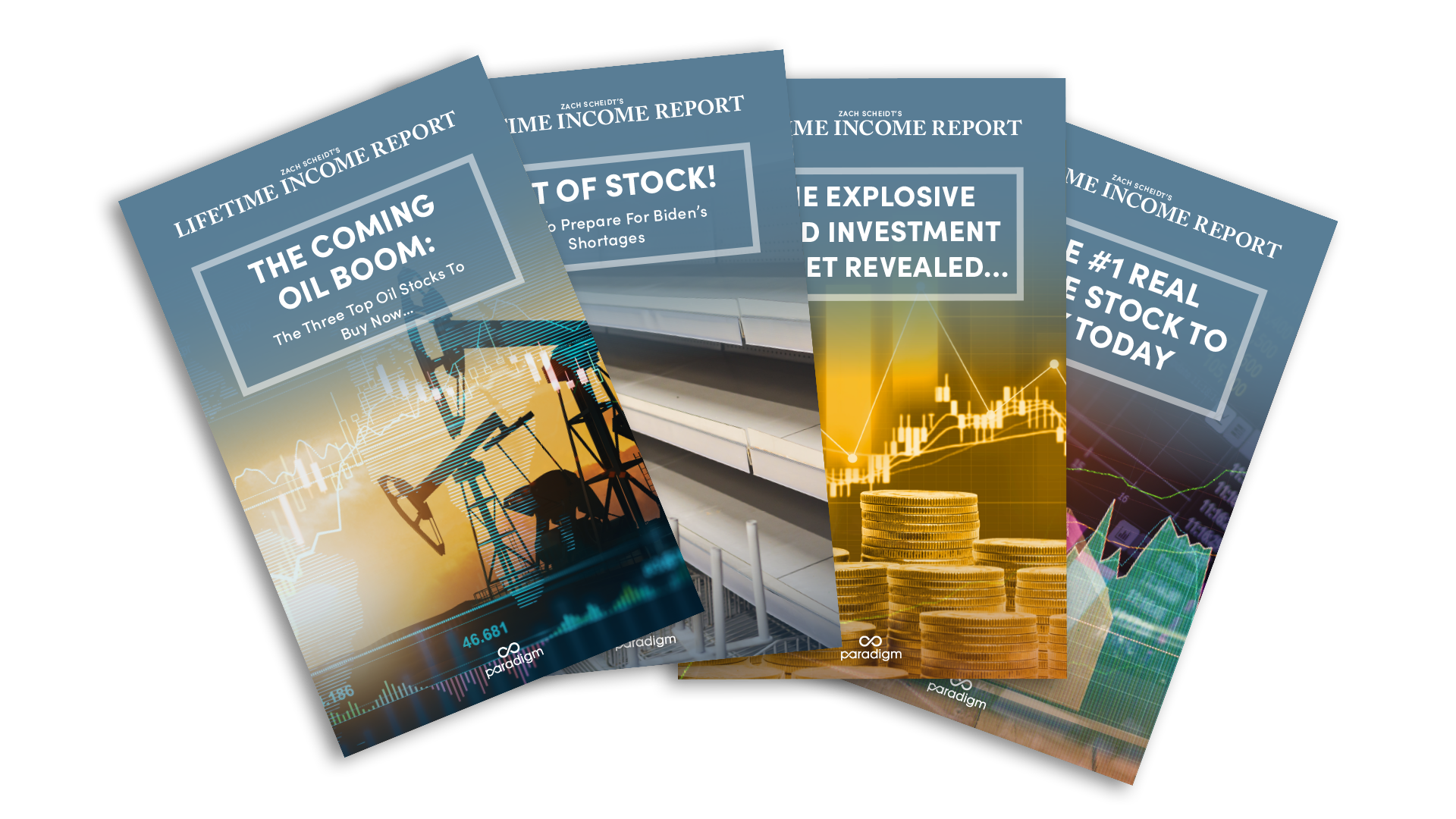 Everything will be sent to your email right away, within moments of getting started… so you can act right away.
I want to invite you to join my private monthly research because after years of helping thousands of people at or near retirement age, one critical lesson stands out to me…
What I've learned is that income is the #1 key to a successful retirement.
If you plan in advance and secure multiple sources of income, you can do what you want in retirement without ever worrying about running out of money.
If you don't plan well, however…
You could be forced to spend your retirement years pinching pennies, unable to do the things you always wanted like traveling, buying a boat, or living near the beach.
Unfortunately, that's the path most Americans are heading towards…
After all, as Investopedia claims, the average American will need about $1.9 million today just to retire comfortably.
And with life expectancy on the rise (many experts say that seniors today could live into their 100s), you may end up needing more than that.
Just think about that…
Most Americans will never even come close to reaching that number…
And as a result, they'll be forced to get by on Social Security alone… which, at last check, pays just about $1,300 per month on average.
That works out to only $15,600 per year!
And with prices already on the rise and set to explode much higher due to inflation, it'll soon be nearly impossible to live on that in the years ahead.
That's why I want to personally invite you to join me at Lifetime Income Report…
Because every month I show readers the exact strategies they can use to increase their income and wealth… from scratch, in most cases.
As soon as you agree to try my work out, you'll get instant access to all of my reports, ready for immediate download: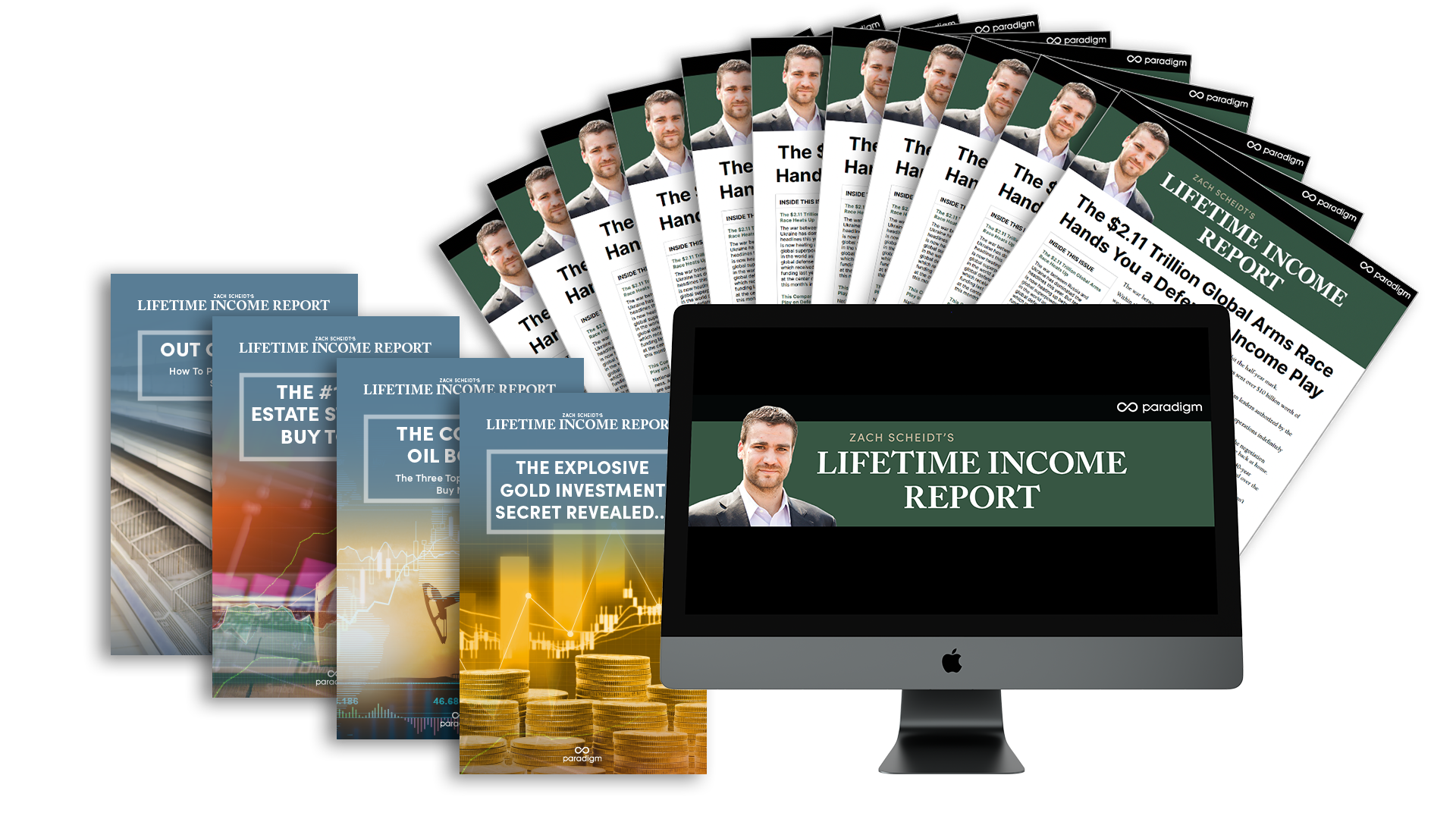 All told, that's a total value of more than $4,000…
Yet complete access to this entire package typically costs just $99 for one full year.
And when you consider everything that you get, that's a great deal.
However, today you won't have to pay anything close to that…
Instead, you can join Lifetime Income Report for a fraction of that… just $49.
That works out to 13 cents a day, or less than $1 per week… a tiny price to pay for everything you'll receive.
Is 13 cents a day worth it to you to get the exact instructions on avoiding what could turn into the worst inflation crisis in America's history?
I think so, but I'll let you decide.
And you won't have to risk anything to give this a shot…
When you take a 100% risk-free trial to Lifetime Income Report today, I'll give you an entire six months, or a full 180 days, to try everything out.
And if, for some reason, you find that my research isn't right for you…
Or for any reason at all…
You can call or email my team based right here in the United States and they'll promptly issue you a full, no-hassle refund on your $49 fee.
I'll even let you keep everything I've promised you today, just as my way of saying thanks for giving this a try.
You can keep all of the reports…
You can keep all of the issues and more…
Everything is yours to keep.
That means you really have absolutely nothing to lose…
If you wanted to, you could check everything out, cancel right after, and immediately get all of your money back and keep everything.
So how can you get started?
All you have to do is click on the button below…
Clicking won't obligate you to anything…
It will simply take you to another page, where you can review all of the details of this offer.
But you must hurry…
As you've seen today, this crisis is going to get much worse than most people can even imagine over the coming months…
Jack Dorsey, the founder of Twitter, is even warning about hyperinflation… he says "hyperinflation is coming"… and that it's "going to change everything."
The stakes have never been higher.
If you thought the 1970s inflation was bad, what happens this time around will shock you.
The question is, will you take action and follow the simple steps I've outlined to protect yourself and your family from what's coming?
I hope so…
Because I've already taken action to protect my own family.
And I'll show you exactly what I did as soon as you claim my complete, step-by-step plan for beating inflation.
All you have to do to get started is click the "Subscribe Now" button you see on your screen.
Clicking won't obligate you to anything, of course… it'll just give you another chance to review this offer in full and make your decision.
Take your time to decide if you need to…
You'll be able to click below for as long as you remain on this page.
Thanks for your time, and I look forward to welcoming you on the other side in the next few minutes.
Sincerely,

Zach Scheidt
Editor, Lifetime Income Report
April 2023
Subscribe Now